The bling is the thing, but let's face it - a diamond ring needs special treatment, especially when it's the focal point of the most important days of your life.
Most jewellers provide a standard black velvet box to protect your rock. After all, you don't want to carry it out of the store in your pocket or your palm. But a unique engagement ring box can add a touch of finesse, both to your proposal and to the wedding itself.
Here are 15 engagement ring boxes for an amazing proposal.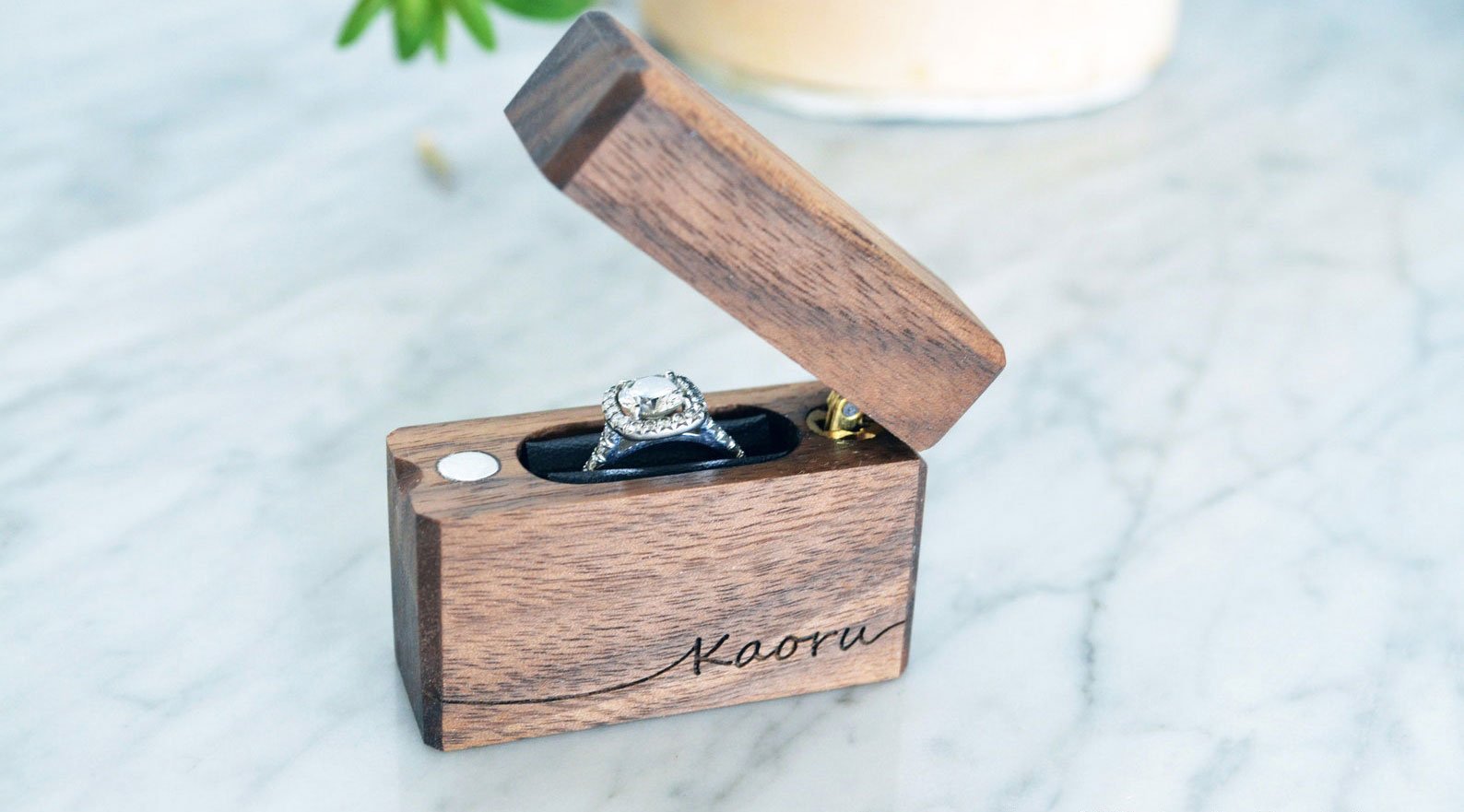 1. Slim Wooden Ring Box
If you need a small, elegant container for the engagement ring, this slim wooden ring box might be the perfect choice for you. Without the typical ring-box size and shape, she won't immediately suspect your intentions.
You can engrave the box with any message you want, from a single name to a line from a poem or a heartfelt sentiment. You can even send in an image to be engraved on the wood.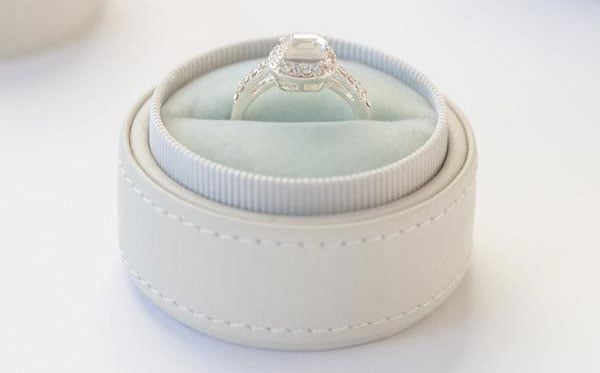 2. Amonié Light Grey Leather Ring Box
Handmade and designed to become an heirloom itself, this Amonié ring box is made of the finest Australian leather.
You can customise the box by choosing the interior's colour. For personalisation, add a gold monogram to the box's circular top.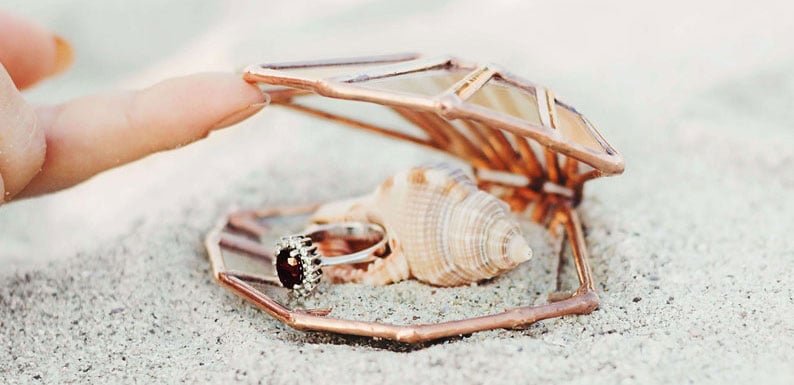 3. Stained Glass Seashell Wedding Ring Box
Perfect for a seaside proposal or destination beach wedding, this engagement ring box delivers fairytale elegance with a side of whimsy.
According to legend, Aphrodite was born of seafoam and married Poseidon, the God of the Sea. He presented her with a scallop shell that represented their love for one another. Carry their ancient story into your future with this gorgeous engagement ring box.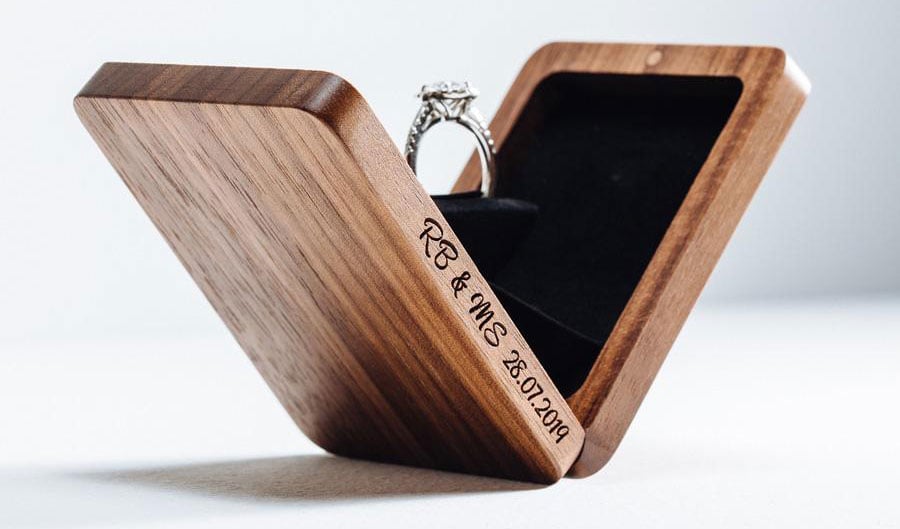 4. Woodsbury Walnut Engagement Ring Box
Traditional ring boxes spoil the surprise. Woodsbury's Walnut Engagement Ring Box, on the other hand, will keep her guessing until the dramatic moment arrives. And when we say dramatic, we're not kidding.
The ring box's elegant holder rotates as the box opens, turning the sparkler to just the right angle. It has a concealed magnetic closure, and soft foam securely cradles the ring and holds it carefully. It's hand-sanded and finished with beeswax and burnished oil. Best of all, you can personalise it with an engraving of your choice.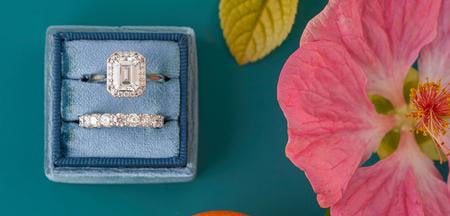 5. The Rory Classic Double Enamel Monogram
Produced by The Mrs Box, this classy engagement ring box features a stunning, hand-painted enamel monogram. The gold, silver, or rose gold monogram contrasts beautifully with the box's custom-dyed velvet.
For long-lasting wear (think heirloom quality), you can't do better than the Rory Classic. It's a luxe choice, perfect for a one-of-a-kind sparkler.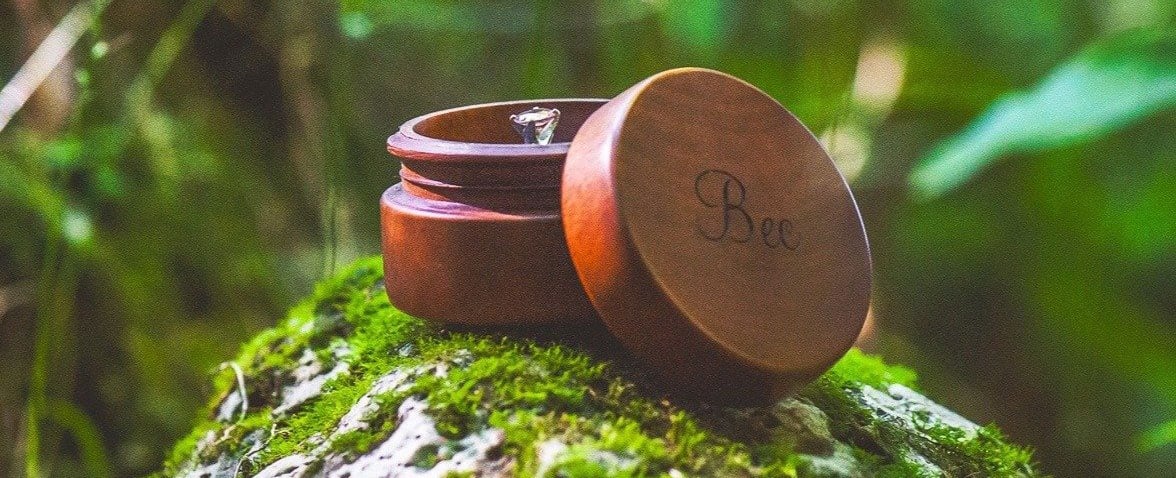 6. Natural Australian Timber Wedding Ring Box
A nature lover might prefer this natural Australian timber wedding ring box. The petite box has a sleek shininess, achieved after multiple polishes with natural materials.
Since each of these boxes is carefully handcrafted, they're all slightly different. Your love for each other is uniquely yours; your engagement ring box can be just as special.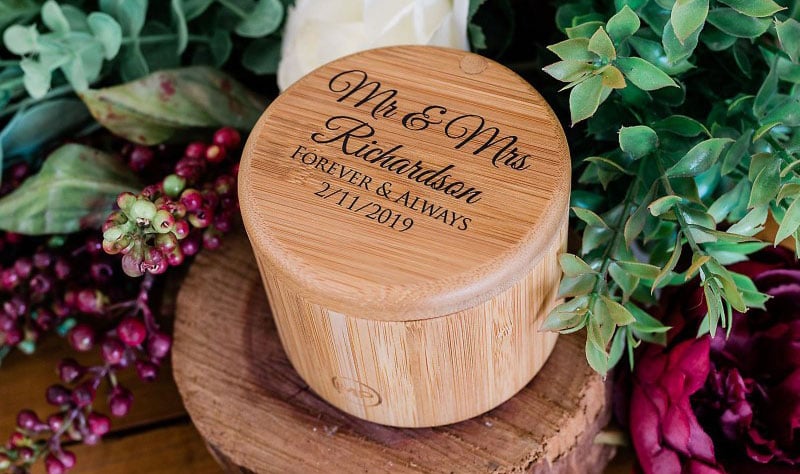 7. Bamboo Wedding Ring Box
Some engagement ring boxes seem perfect for a proposal or ceremony, but they don't seem to fit into everyday life. This bamboo wedding ring box will look right at home on your dresser long after the wedding cake has been eaten and the dress comes back from the cleaners.
Professionally printed with your names, date and even a personal phase, this cylindrical bamboo box has a magnetic closure and a warm, satiny smooth finish.


8. Stained Glass Ring Box
Why hide that gorgeous bauble inside an opaque box? With this stained glass ring box, the container highlights the beautiful object inside!
The box's sloped opening allows for easy access and an unobstructed view of your sparkly engagement ring. It comes with a handmade muslin pillow, perfect for cushioning the treasure within.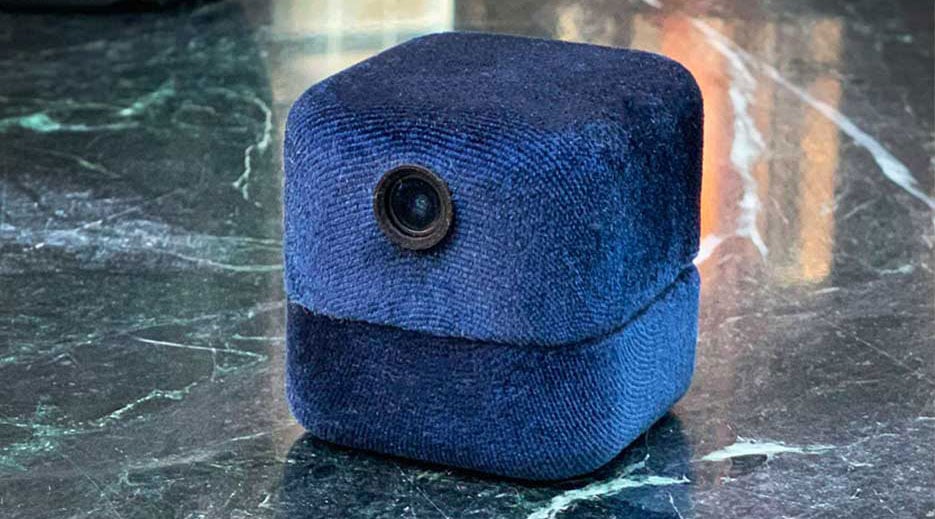 9. Remember Ring Box Camera
"I wish you could have seen the look on her face!"
If you want to capture that look, consider the Remember Ring Box, which features a camera with the best view of your bride-to-be's facial expression. With a 120-degree wide-angle lens, the camera won't miss a thing. Its omnidirectional microphone will capture your speech and her "yes."
Next, you can access the footage from your smartphone via WIFI connection. If you want, you can even practice your proposal ahead of time and watch your delivery.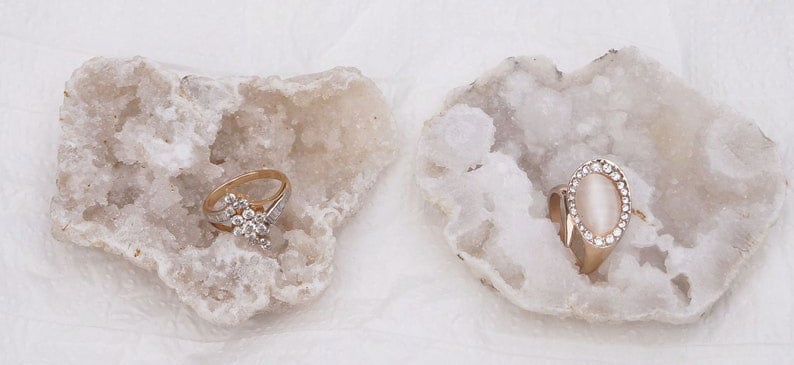 10. Geode Ring Box
Before you bought that gemstone at the jeweller's shop, it made quite a journey from its original home, thousands of metres below the earth's surface.
Make that diamond feel right at home in this stunning geode ring box, which sparkles almost as much (but not quite) as that rock you've chosen to slip on your beloved's finger.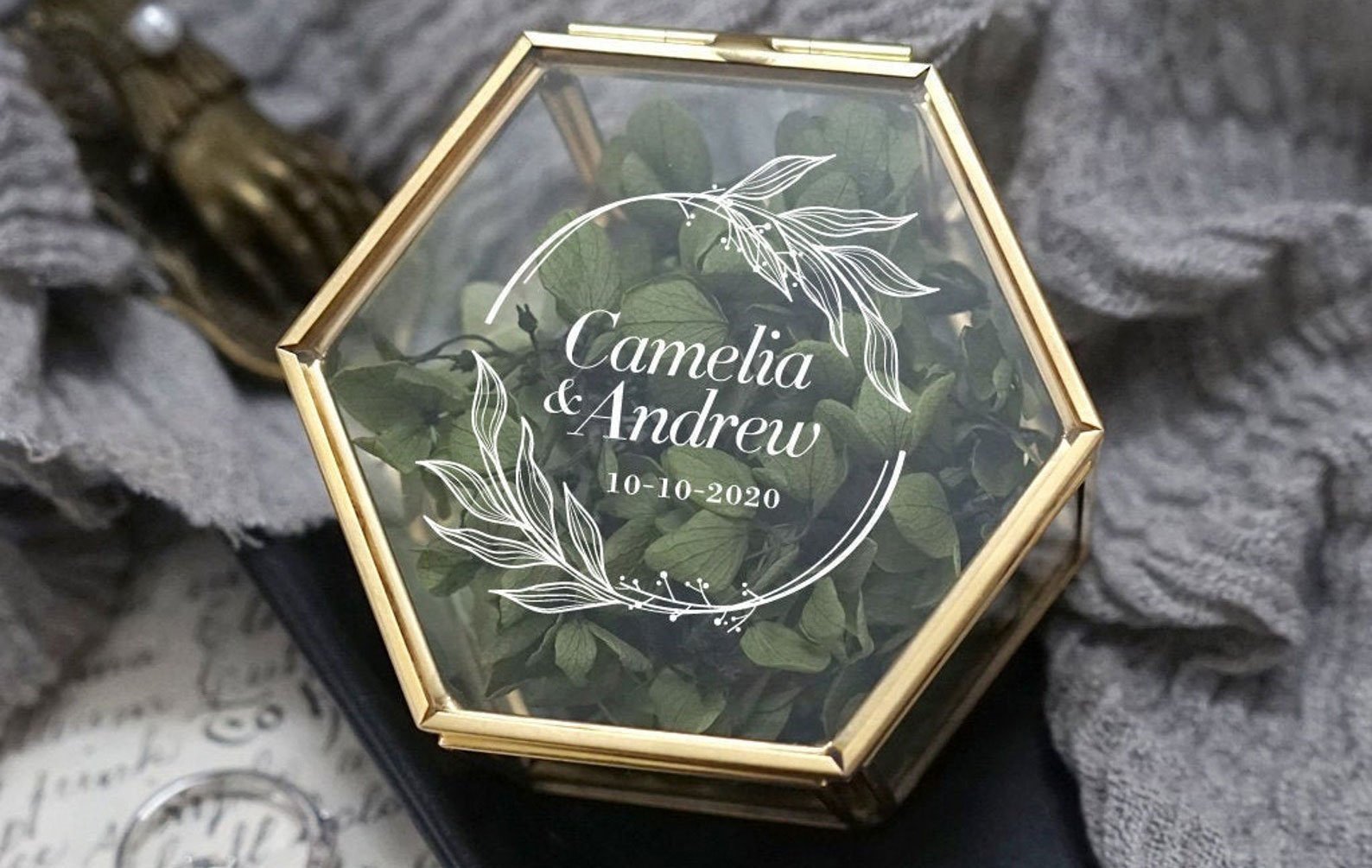 11. Hexagonal Glass Box
Reflecting light every which way, the hexagonal glass engagement ring box is large enough to accommodate three rings. In other words, it could be perfect for holding both of your rings at the wedding, even if you choose a wedding band set.
The box comes in a variety of design options, such as customisation of the border colour and background varieties, so you can perfectly match your piece.

12. Cinderella Carriage Ring Box
Start your Happily Ever After with the proposal. Escort your sparkler to the proposal site in this white enamel pumpkin on gold-plated wheels. Crystals accent the carriage and wheels, catching the light and setting the stage for her magical "Yes!"
The ring box also includes a small pumpkin charm on a gold-plated chain, a constant reminder of your fairytale romance.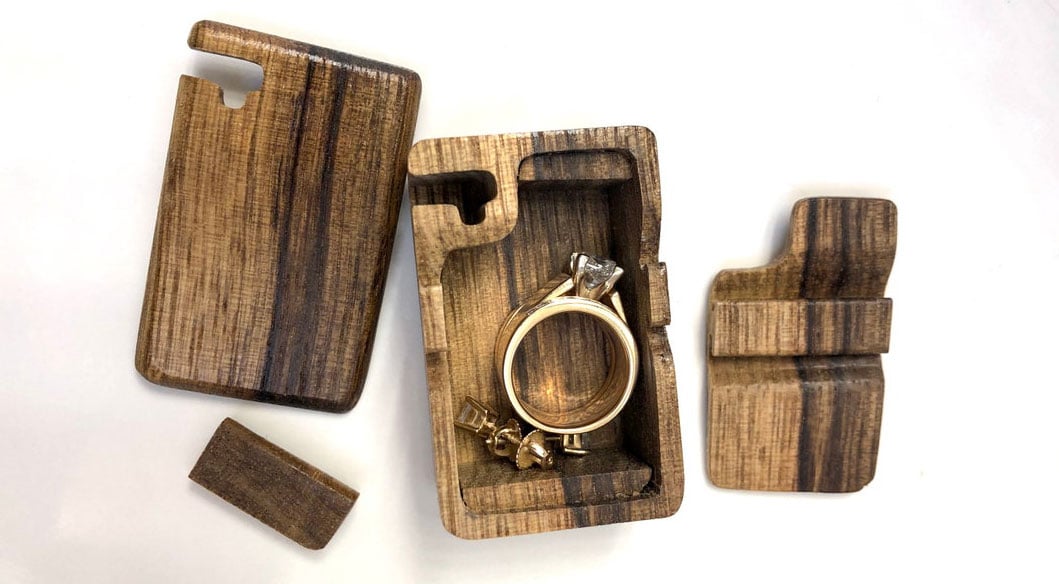 13. Engagement Ring Puzzle Box
Want to surprise your beloved? This innovative box could be a toy she fiddles with, a puzzle to solve. But once she figures it out, she'll be overwhelmed by the gorgeous bauble inside.
Made from striking black limba wood, this adorable box is small enough to fit discreetly in your pocket until it's time to test her puzzle-solving abilities.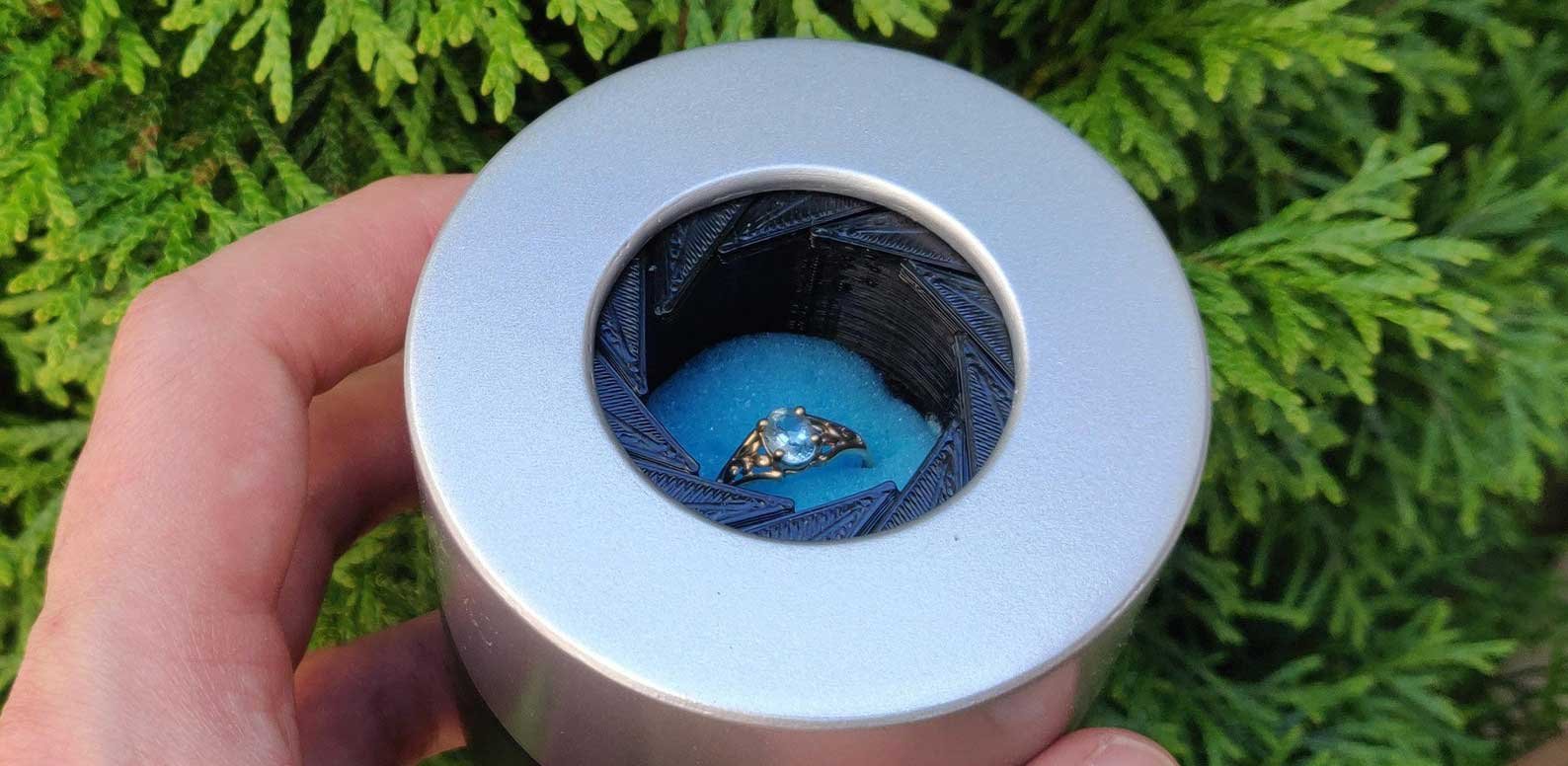 14. Engagement Ring Box with a Mechanical Iris
How would Ironman propose to his lady love? Probably with this Mechanical Iris Engagement Ring Box.
The box has a mechanical iris diaphragm. When you twist the two halves, the aperture reveals easy access to your engagement ring, which is cradled in a soft, foam holder. Space-age. Impressive. She's yours.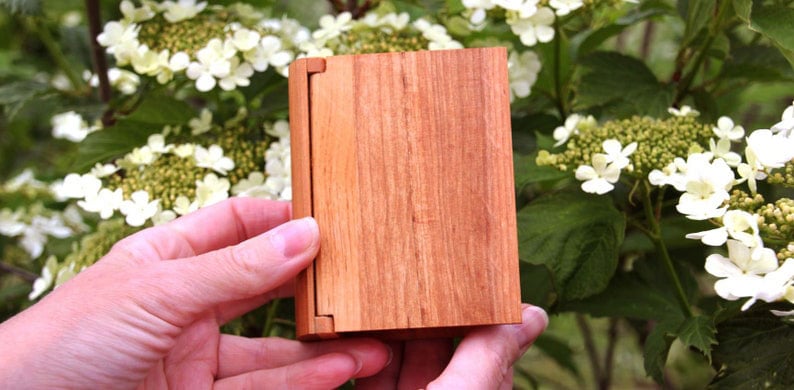 15. Wooden Book Box
An engagement is the beginning of a beautiful story. You'll write that story together, year in and year out. Why not conceal the engagement ring in a lovely wooden book box?
Made of natural wood and treated with wax, this adorable book-shaped ring box can be personalised with initials and a date. It's a sweet memento to keep on a bookshelf or a sturdy storage box for constant use.
As you sort out the details of your proposal, be sure to insure the engagement ring! Whether you're proposing at an overseas destination or the coffee shop around the corner, we'll protect it from damage, theft and loss. Find out how affordable it can be to protect that precious engagement ring.