When you think of an engagement ring, you probably picture a sparkly white diamond atop a white or yellow gold band. But many modern brides-to-be are daring to be different with unconventional, coloured gemstones.
From Kate Middleton's deep blue sapphire to Katy Perry's stunning ruby, splashy gemstones are popping up at proposals everywhere. But what are your diamond alternatives? And how much do they cost?
The following ten diamond alternatives are uniquely gorgeous and stand out in a crowd of white diamonds. Keep in mind that the average prices per carat are calculated in US dollars.



1. Tanzanite
Average price per carat: $600-$1000 USD
Tanzanite has been found in only one place on Earth, at the foot of Mount Kilimanjaro in Tanzania. Also called Zoisite, this mineral is reddish-brown in its raw state, but it's often heat-treated to turn the stone sapphire blue, amethyst or violet.
Often paired with white diamonds, tanzanite is perfect for eye-catching engagement rings, such as this exquisite 18k gold halo from Ramzi & Co.



2. Aquamarine
Average price per carat: $1,000 USD
In ancient times, people believed that aquamarines could calm waves, keep sailors safe and cure illnesses. And when you gaze into a gorgeous aquamarine sparkler, it's easy to see why.
Today's spell-binding aquamarine engagement rings run the gamut from light blue-green to intense sea blue. A form of the mineral beryl, aquamarine can bring a dramatic or subtle pop of colour to an engagement ring or wedding band set. For instance, this heart-cut, prong-set aquamarine hovers about 63 sparkling white diamonds to create a sweet, sparkly ensemble.



3. Sapphire
Average price per carat: $1,200 to $2,000 USD
Sapphires are the second most popular engagement ring stone after diamonds, and although we usually think of them being blue, they also come in yellow, green, orange, pink and black. Therefore, for non-blue stones, we include their colour in their name, such as 'orange sapphire.'
Mined in many countries scattered worldwide, sapphires are made from corundum, a form of aluminium oxide. We can't get enough of this Asscher-cut unheated sapphire engagement ring by Jason Ree. The unique Australian gemstone originates from an ancient volcano.



4. Fire Opal
Average price per carat: $2,300 USD
Most of the world's fire opals are found in Mexico, but they also originate in Australia, Brazil, Honduras and the United States. The translucent stones contain a rainbow of gorgeous colours, ranging from green and gold to red and yellow.
Each milky stone has a different colour combination, depending on which minerals were present as the stone formed. The centre stone in this antique Victorian engagement ring, for example, is primarily orange, but you can also detect hints of teal blue and leaf green.


5. Ruby
Average price per carat: $4,500 USD
Gem-quality rubies typically cost about $4,500 per carat, but some unique rubies sell for as much as $1 million per carat. Until the 1980s, most stones came from Australia, but they are now mined in many countries across Asia, Africa and Europe.
The word 'ruby' comes from the Latin 'ruber', which means red, and they often ended up in crown jewels in days gone by. Perhaps this is because royals believed them to inspire love and protect against injuries in battle. But you don't have to be a royal to don a cushion-cut ruby engagement ring, like Cartier's Solitaire 1895, paved with brilliant-cut diamonds.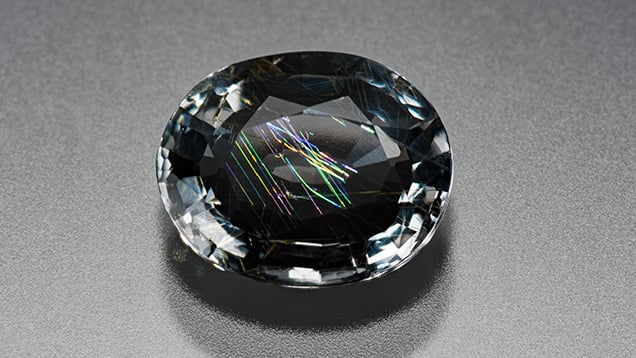 6. Musgravite
Average price per carat: $6,000 USD
Here's another hometown favourite, first found in 1967 in the Musgraves Ranges in South Australia. Composed of magnesium-rich beryllium oxide, Musgravite is now mined in other locations, including Antarctica, Greenland, Madagascar, Tanzania and Sri Lanka.
For years, only eight musgravite stones were thought to exist, so if you like to pull out the stops on one-of-a-kind trinkets, this precious gem is for you.



7. Bixbite (Red Beryl)
Average price per carat: $10,000 USD
Red beryl (also called Bixbite after mineralogist Maynard Bixby) ranges in colour from strawberry, cherry, ruby and sometimes even orange. The only gem-quality Bixbite stones hail from Utah, USA, but some lower-quality gems have been found in Mexico and New Mexico.
Most bixbite gems are small. Michael Koh, the founder and designer of the Singapore-based brand Caratell, explains: 'Most red beryl gemstones are under half a carat in weight, so a 2-3 carat gem would be considered huge. This is why there is an exponential jump in price from 1 carat to a 2 carat bixbite, it is estimated at 5-7 times higher.'



8. Paraiba Tourmaline
Average price per carat: $10,000 to $20,000 USD
Electric blue and very in-demand, Paraiba tourmalines originate from Paraiba, Brazil, and also in Africa. The darker blue stones in Brazil fetch up to $20,000 per carat, and prices may rise significantly, especially since mines haven't been able to keep up with demand.
Look at the depth of this gorgeous oval Paraiba tourmaline centre stone. It's flanked by two round brilliant-cut diamonds and set in luxurious platinum. Simply gorgeous.



9. Alexandrite
Average price per carat: $12,000 USD
First discovered in Russia in the early nineteenth century, Alexandrite is named for Alexander II. And until recently, it had only been found in Russia. Now, however, miners have located stores of the gem in East Africa, Brazil and Sri Lanka.
One of the most remarkable attributes of Alexandrite is its ability to change colour depending on the light. Sometimes referred to as 'an emerald by day, ruby by night,' Alexandrite will keep you guessing. Its unique combination of chromium, iron and titanium make the stone appear green in daylight (like this princess-cut engagement ring) and red in artificial light.



10. Emerald
Average price per carat: $18,000 USD
Rarer than diamonds, emeralds are also more expensive than the same quality diamond. Their colouring ranges from green to blue-green, and the darker the colour, the more expensive they are.
Historically, emeralds have symbolised paradise and immortality, and today they're mined mainly in Columbia, Brazil and Zambia. In modern times, they've made a splash in celebrity engagement rings. US President John F. Kennedy proposed to Jackie with a 2-carat diamond and 2-carat emerald setting, and Academy Award winner Halle Berry sports a stunning bright green 4-carat dazzler.


How Do These Stones Compare with Diamonds?
Top-quality diamonds typically sell for $15,000 to $18,000, similar to emeralds and Paraiba tourmaline. But, of course, the stone's quality can make a big difference in its price, and that's why it's so important to know about the 4C's of diamond grading.
When it comes down to determining what kind of gem to select for a piece of jewellery, personal preference is paramount.
And when you find the perfect gem, it's time to think about insuring it. Here at JewelCover, we provide world-class protection for an incredibly affordable price. Call us at 1300 522 808 to learn more, or fill out this form for an instant online quote.